Advantage:
1. High Good Values
2. Good Quality (ISO & CE Certification)
3 Knoop hardness can be measured with optional indenter
4. Stepless adjustable brightness light source;

Application fields:
Heat treatment, carbide, quench hardened layer, the surface coating layer, steel, non-ferrous metal and small and thin shape parts, etc.
Main Features:
The hardness tester adopts LCD screen to display. Such selections as the hardness scales HV or HK, various steps of test force, dwell time can be operated on the operating panel. The luminosity of light source can be adjusted without grades as well. After input the D1 & D2 values measured form the eyepiece, the hardness value will display on the LCD screen directly.
Model THV-5M /10M/30M/50M Micro Vickers Hardness Tester (with motorized turret) is with the function to shift between the indenter and objectives mutually during test process.
Application materials:
Ferrous metals, non-ferrous metals, IC thin sections, coating layer, ply-metals
Glass, ceramics, agate, precious stones, thin plastics, etc
Hardness test such as that on the depth and gradient of the carbonized layers and quenched hardened layers.
Technical Specifications: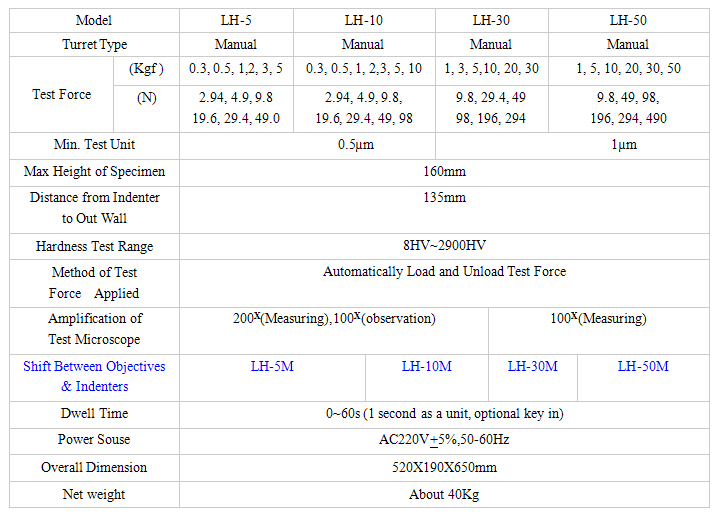 Standard Accessories:
| | | | |
| --- | --- | --- | --- |
| Item | Quantity | Item | Quantity |
| Weight | 3 | Vickers hardness block (High, Low) | 1 each |
| V shape testing table | 1 | Spare Fuse (2A) | 2 |
| Round flat testing table | 1 | Power cable | 1 |
| Big testing table | 1 | Objective 10X | 1 |
| Operation Manual | 1 | Product Certificate | 1 |